2023 Apple Country Jamboree
Keeler Centre
80 Division Street
Colborne, ON
August 3rd - August 6th, 2023
This 20-year-old Jamboree is very proud of its achievements. We are very proud to be the only Jamboree offering 4 complete days, plus gospel hour, plus an optional Early Bird show to start off for those wanting to participate.
Arrive on Wednesday morning and stay for five days of camping until Monday.
All this has been possible because of the super organizational skills of the late Linda Grills. By following Linda's administrative procedures, we will continue to follow these methods as long as the Jamboree is in existance. Big shoes to fill, but we will try our utmost to fill them.
This year, Thurday night will include a short tribute to Linda presented by John Lester. In his professional manner, John will cover the highlites of her once in a lifetime Jamboree experiences all in the name of country music - covering the special moments that meant so much to her.
We hope you'll join us to honor Linda's legacy and to enjoy all the country music and camping our Jamboree has to offer.
Tickets: Walk In - ( no camping )
4 Day Pass:
Daily:
For camping contact Gary
Gary Warner - 905-376-3709 - gwarner@eagle.ca
THE EARLY BIRD SHOW
Keeler Centre
80 Division Street
Colborne, ON
'The Heart Of Texas Road Show'
Wednesday, August 2nd, 2023
FEATURING:
Tony Booth, Dottsy, Dallas Wayne, Landon Dodd, Tracy Pitcox.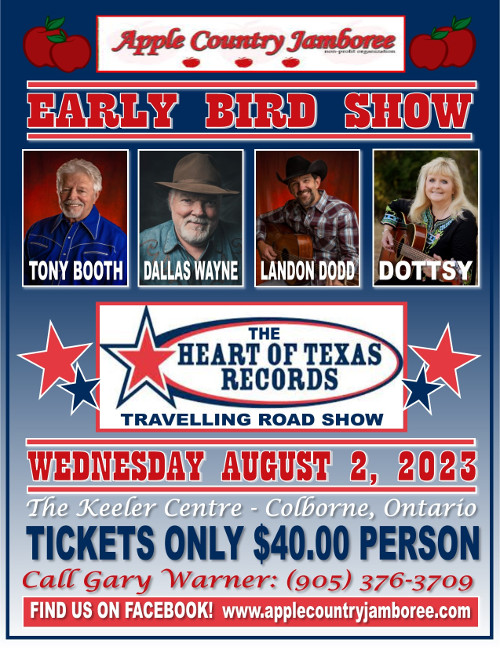 Mail Orders to
Gary Warner 905-376-3709 gwarner@eagle.ca